PressurePro Pulse FX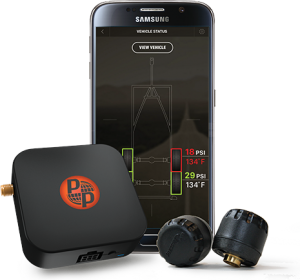 Leading another revolution in the tire performance management, PressurePro again breaks the mold with the release of FX. The first BYOD based TPMS option designed specifically for towable and light fleet markets, FX allows users to leverage PressurePro's leading sensor technology alongside existing smart devices; delivering the market's most trusted and proven monitoring, at never-before-seen value.
Leveraging existing devices as displays, customers unlock the ability to utilize PressurePro's unparalleled Sensor technology at unbeatable prices.
Unrivaled tire capacity and pressure range, as well as unit storage abilities, users experience unequaled capabilities including instant toggling of units.
PP's custom App, provides unsurpassed ease of installation and use while fully customizable alerts provide unmatched safety and savings
The market's first TPMS designed for towables and light fleets, PressurePro's FX arms users with unmatched capabilities at unrivaled value.
System Highlights & Features
Real Time Pressure & Temperature Readings
Arm drivers with performance data, moving or parked
5 Unique Alerts (2 low pressure, high pressure, high temp, cross axle)
Provide the market's most comprehensive warning system
Custom Designed PressurePro App (android/iOS)
Guides users seamlessly through installation and use
Push Notifications & FX Warning Light
Ensure notice to performance issues even when 'out of app'
40+ Tire Capacity & 8-200 PSE Capability
Provides users with unmatched monitoring abilities
User Configurable Layouts & Alerts
Allow users to customize units to their unique needs/set-up
Vehicle/Trailer Naming & Storage
Adds ability to monitor and switch between multiple units
PressurePro PULSE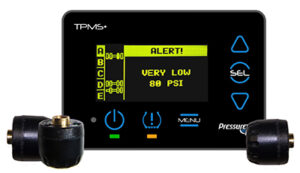 Common uses: Consumer Vehicles, Light Trucks, Buses, Emergency Equipment, Straight or Box Trucks, Tractor Trailers, Ag Equipment, Dump and Work Trucks, Heavy Duty and Mining Equipment
Description: The first release in PressurePro's barrier breaking TPMS+ solution platform is a true all-in-one solution for drivers of all kinds and vehicles of all types. Allowing users to monitor up to 80 wheel positions and up to 5 stored vehicles/units, PULSE also features a host of advanced capabilities.
Totally redesigned, easy to read display with an intuitive user interface that walks you easily through installation and use, PULSE also features fully customizable layouts. Touting fully adjustable reference pressures and the market's most comprehensive alerts, while also offering built in Data Logging capabilities with easy to use sd card download and storage, PULSE puts you in full control of your tire maintenance practices.
General Information: PressurePro's PULSE is capable of reading pressures from 10 psi to 250 psi, are RS232 capable, and can display pressures in PSI, BAR or kPa. The Monitor also features two customizable low pressure alert levels, a user settable upper high pressure alert, a high temperature alert to warn drivers when temperatures reach 194°F, quick leak alert and a market original cross axle alert. PressurePro's PULSE also has self-diagnostic tests, allow simple installation and provide drivers with real time tire performance information whether parked or on the road.
Complete your PressurePro System with Sensors, a power cord and antenna.
Pulse Monitor with Dynamic Sensors
Dynamic Sensors provide temperature reading with 2 degree increments. Includes Pulse Monitor, Power Cable, External Antenna & Free Shipping.
Note – Must use an external antenna and mount under coach as far to the rear as possible. The antenna comes with 35′ of cable
Pulse Monitor with Standard Sensors
Standard Sensors provide temperature reading with 40 degree increments. Includes Pulse Monitor, Power Cable, Repeater, Dipole Antenna and Free Shipping. 
---
Pulse Dash Monitor – We recommend the installation of an External Antenna for 45′ Coaches to reduce possible loss of signal to towed vehicles or trailers. Pressure Pro will have a Repeater available soon to eliminate the need for an External Antenna.
Pulse FX – The FX is Bluetooth and can usually be mounted anywhere in the Coach that provides good signal strength from the Sensors.