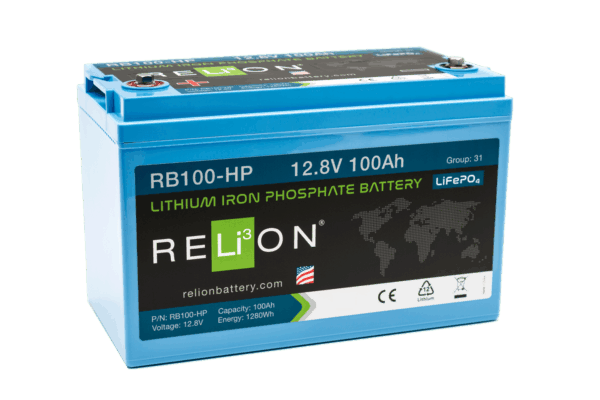 Our RB100-HP is a dual-purpose 12V, 100 Ah lithium battery. Our HP Series batteries are high performing dual purpose deep cycle batteries that can handle both starting and cycling. The RB100-HP has increased peak amps over our standard batteries. This increase in peak amps can be used to start motors, electric start generators and other high amp draw devices. After starting, the battery can double as a house battery providing power for peripherals, accessories and other onboard needs.
RELiON's HP Series batteries are a perfect compromise between the unique demands of starting service and deep cycling, low amp draw service. The RB100-HP is a powerhouse that is also versatile and compact enough for use in many marine applications including bass boats and shallow bottom boats.
The RB100-HP features installation flexibility and no maintenance over the life of the battery. It maintains consistent power and is equipped with an M8 terminal type and a built-in battery management system (BMS).
PRODUCT SPECIFICATIONS
Voltage: 12.8V
Amp Hours: 100Ah
DIMENSIONS & WEIGHT
Length: 13 in (329 mm)
Width: 6.8 in (172 mm)
Height: 8.4 in (214 mm)
Weight: 29.8 lbs (13.5 kg)
APPLICATIONS
Marine
Recreational Vehicles
DATA SHEET
Electrical Specifications

Nominal Voltage
12.8 V
Nominal Capacity
100 Ah
Capacity @ 25A
240 min
Energy
1280 Wh
Resistance
≤30 mΩ @ 50% SOC
Efficiency
99%
Self Discharge
<3% per Month
Maximum Modules in Series
1 (Single Use)
Mechanical Specifications

Dimensions (L x W x H)
13.0 x 6.8 x 8.8" (329 x 172 x 223 mm)
Weight
29.8 lbs (13.5 kg)
Terminal Type
M8 x 1.25
Terminal Torque
80 – 100 in-lbs (9 – 11 N-m)
Case Material
ABS
Enclosure Protection
IP66
Cell Type – Chemistry
Cylindrical – LiFePO4
Discharge Specifications

Maximum Continuous Discharge Current
100 A
Peak Discharge Current
800 A (2 s)
BMS Discharge Current Cut-Off
1000 A ±100 A (2.2 ±1 ms)
Recommended Low Voltage Disconnect
11 V
BMS Discharge Voltage Cut-Off
9.2 V (2.3 ±0.08 vpc) (4.2 ±0.5 s)
Reconnect Voltage
10 V (2.5 ±0.1 vpc)
Short Circuit Protection
200-600 µs
Charge Specifications

Recommended Charge Current
5 A – 50 A
Maximum Charge Current
100 A
Charge Current 32°F to 14°F (0 to -10°C)
≤0.1 C
Charge Current 14°F to -4°F (-10 to -20°C)
≤0.05 C
Recommended Charge Voltage
14.2 V – 14.6 V
BMS Charge Voltage Cut-Off
15.4 V (3.85 ±0.025 vpc)
 
(1 ±0.2 s)
Reconnect Voltage
14.6 V (3.65 ±0.05 vpc)
Balancing Voltage
14.4 V (3.6 ±0.025 vpc)
Temperature Specifications

Discharge Temperature
-4 to 140 ºF (-20 to 60 ºC)
Charge Temperature*
-4 to 113 ºF (-20 to 45 ºC)
Storage Temperature
23 to 95 ºF (-5 to 35 ºC)
BMS High Temperature Cut-Off
176 ºF (80 ºC)
Reconnect Temperature
122 ºF (50 ºC)
*Refer to charge currents below 32°F (0°C)
 
Compliance Specifications

Certifications
UN38.3 & CE (battery)
 
UL1642 (cells) (File# MH62098)
 
IEC62133 (cells)
Shipping Classification
UN 3480, CLASS 9