RB60 Lithium Deep Cycle Battery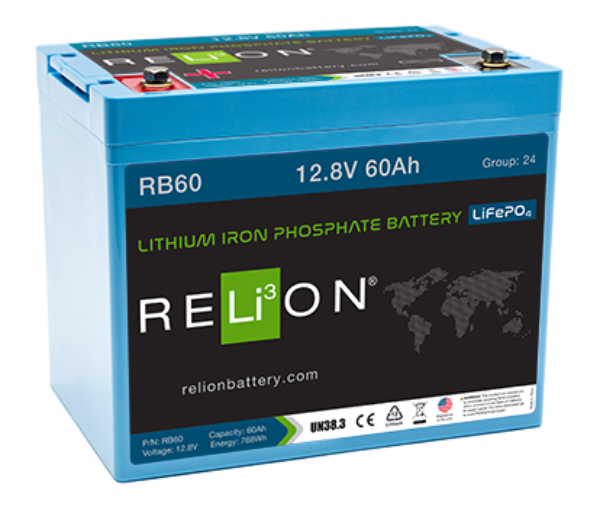 This 12V 60 Ah, Group 24 lithium iron phosphate battery is a safer, super lightweight alternative to lead-acid in your marine, solar RV, or other deep cycle applications. Coming in under 20 lbs, this battery is less than half the weight of a lead-acid equivalent and gives you more hours of consistent power. 60-amp hours of capacity means a full day of power for smaller-sized trolling motors or for a long day on the road in your RV.
RELiON lithium batteries provide more energy for high consumption than traditional lead-acid batteries. They also offer ultra-fast charging and discharging, high efficiency and longer cycle life – plus no maintenance! All RELiON Batteries use the safest and most stable components, including a LiFePO4 cathode and a built-in Battery Management System (BMS). The BMS ensures a long lifetime, safe handling – and high-accuracy State of Charge (SOC) calculations.
PRODUCT SPECIFICATIONS
Voltage: 12.8V
Amp Hours: 60Ah
DIMENSIONS & WEIGHT
Length: 10.2 in (260 mm)
Width: 6.6 in (168 mm)
Height: 8.3 in (210 mm)
Weight: 15.9 lbs (7.2 kg)
APPLICATIONS
AWP
Marine
Recreational Vehicles
Solar
DATA SHEET
Electrical Specifications

Nominal Voltage
12.8 V
Nominal Capacity
60 Ah
Capacity @ 25A
144 min
Energy
768 Wh
Resistance
≤40 mΩ @ 50% SOC
Efficiency
99%
Self Discharge
<3% per Month
Maximum Modules in Series
3
Mechanical Specifications

Dimensions (L x W x H)
10.2 x 6.6 x 8.2" (260 x 168 x 210 mm)
Weight
15.9 lbs (7.20 kg)
Terminal Type
M8 x 1.25
Terminal Torque
80 – 100 in-lbs (9 – 11 N-m)
Case Material
ABS
Enclosure Protection
IP66
Cell Type – Chemistry
Cylindrical – LiFePO4
Discharge Specifications

Maximum Continuous Discharge Current
60 A
Peak Discharge Current
140 A (1.5 s ±0.5 s)
BMS Discharge Current Cut-Off
160 A (9 ms ±4 ms)
Recommended Low Voltage Disconnect
10V
BMS Discharge Voltage Cut-Off
8 V (2.0 ±0.1 vpc) (144 ms ±30 ms)
Reconnect Voltage
8.64 V (2.16 ±0.24 vpc)
Short Circuit Protection
100-800uS
Charge Specifications

Recommended Charge Current
12 A
Maximum Charge Current
60 A
Charge Current 14 to 36ºF (-10 to 0ºC)
≤0.1 C
Charge Current -4º to 14ºF (-20 to -10 ºC)
≤0.05 C
Recommended Charge Voltage
14.2 V – 14.6 V
BMS Charge Voltage Cut-Off
15.6 V (3.9 ±0.025 vpc)
 
(1.2 s ±0.3 s)
Reconnect Voltage
15.2 V (3.8 ±0.05 vpc)
Balancing Voltage
14.4 V (3.6 ±0.025 vpc)
Temperature Specifications

Discharge Temperature
-4 to 140 °F (-20 to 60 °C)
Charge Temperature*
32 to 113 °F (0 to 45 °C)
Storage Temperature
23 to 95 °F (-5 to 35°C)
BMS High Temperature Cut-Off
167 °F (75 ºC)
Reconnect Temperature
122°F (50 ºC)
Compliance Specifications

Certifications
UN38.3 (battery)
 
CE (battery)
 
UL1642 (cells) (File# MH64523)
 
IEC62133 (cells)
Shipping Classification
UN 3480, CLASS 9