RELiON Deep Cycle Lithium Batteries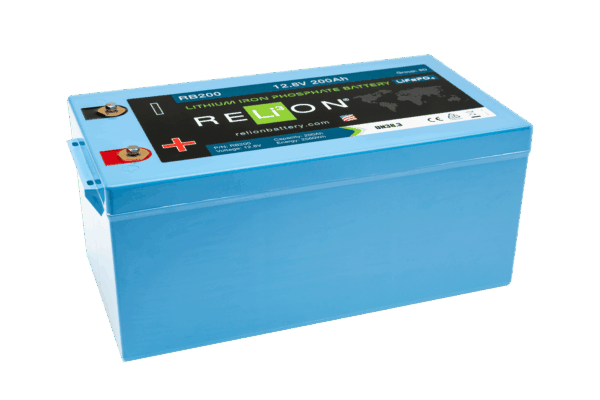 Our RB200 is a 12V, 200Ah lithium deep cycle battery. This Group 8D lithium iron phosphate (LiFePO4) battery is ready to replace your heavy lead-acid battery bank in your sailboat, RV or solar energy system. It's only 61 lbs for a true 200 Amp Hour lithium replacement battery that provides 100% of its rated capacity. The RB200 gives you the flexibility to replace several small, heavier lead-acid batteries in a single high capacity unit.
LiFePO4 batteries are lighter, take less space and last longer. While the up-front cost is higher than Gel, AGM or Lead-Acid the overall cost of ownership is lower over time because they require no maintenance and they have up to 10x longer life.
The RB200 offers high, reliable performance in any climate or condition for RVs, campers, sailboats, catamarans, battery-based solar systems, and other deep cycle applications.
All RELiON Batteries use the safest and most stable components, including a LiFePO4 cathode and a built-in Battery Management System (BMS). The BMS ensures a long lifetime, safe handling – and high-accuracy State of Charge (SOC) calculations.
PRODUCT SPECIFICATIONS
Voltage: 12.8V
Amp Hours: 200Ah
DIMENSIONS & WEIGHT
Length: 20.5 in (520 mm)
Width: 10.5 in (267 mm)
Height: 8.7 in (220 mm)
Weight: 61.1 lbs (27.7 kg)
APPLICATIONS
Electric Vehicles
Marine
Recreational Vehicles
Solar
DATA SHEET
Electrical Specifications

Nominal Voltage
12.8 V
Nominal Capacity
200 Ah
Capacity @ 25A
480 min
Energy
2560 Wh
Resistance
30 mΩ @ 50% SOC
Efficiency
99%
Self Discharge
<3% per Month
Maximum Modules in Series
6
Mechanical Specifications

Dimensions (L x W x H)
20.6 x 10.5 x 8.7" (522 x 267 x 220 mm)
Weight
61.1 lbs (27.7 kg)
Terminal Type
M8 x 1.25
Terminal Torque
80 – 100 in-lbs (9 – 11 N-m)
Case Material
ABS
Enclosure Protection
IP66
Cell Type – Chemistry
Cylindrical – LiFePO4
Discharge Specifications

Maximum Continuous Discharge Current
100 A
Peak Discharge Current
200 A (7.5 s ±2.5 s)
BMS Discharge Current Cut-Off
280 A ±50 A (9 ±4 ms)
Recommended Low Voltage Disconnect
11 V
BMS Discharge Voltage Cut-Off
8 V (2.0 ±0.08 vpc) (140 ±60 ms)
Reconnect Voltage
9.2 V (2.3 ±0.1 vpc)
Short Circuit Protection
200-600 µs
Charge Specifications

Recommended Charge Current
10 A – 50 A
Maximum Charge Current
100 A
Charge Current 32ºF to 14ºF (0 to -10 ºC)
≤0.05 C
Charge Current -4ºF to 14ºF (-20 to -10 ºC)
 
Recommended Charge Voltage
14.2 V – 14.6 V
BMS Charge Voltage Cut-Off
15.6 V (3.9 ±0.025 vpc)
 
(1.1 ±0.4 s)
Reconnect Voltage
15.2 V (3.8 ±0.05 vpc)
Balancing Voltage
14.4 V (3.6 ±0.025 vpc)
Temperature Specifications

Discharge Temperature
-4 to 140 ºF (-20 to 60 ºC)
Charge Temperature*
-4 to 113 ºF (-20 to 45 ºC)
Storage Temperature
-4 to 140 ºF (-20 to 60 ºC)
BMS High Temperature Cut-Off
176 ºF (80 ºC)
Reconnect Temperature
122 ºF (50 ºC)
*Refer to charge currents below 0°C (32°F)
 
Compliance Specifications

Certifications
UN38.3 (battery) & CE (battery)
 
UL1642 (File# MH64523) (cells)
 
IEC62133 (cells)
Shipping Classification
UN 3480, CLASS 9